Insight
Anthroposophy is a discipline of research as well as a path of knowledge, service, personal growth, and social engagement.  The word "anthroposophy" means "wisdom of the human being," or, for us today, "awareness of one's humanity."  It was introduced and developed by the philosopher, scientist, and Goethe scholar Rudolf Steiner as a "science of the spirit."  Anthroposophy is concerned with all aspects of human life and spirit, as well as humanity's future evolution and well-being.
Find out about events, study groups, and other resources for your path.
Inspiration
Anthroposophy takes its starting point from modern critical consciousness and our contemporary orientation towards technology and science.  It is a kind of schooling which leads to concrete experience of the spiritual dimensions of the human being and the world.  A path of inner development, Christ-centered at its esoteric core, its fruits are visible in art, social forms, and practical enterprises.  Over time, about 10,000 institutions and initiatives have been founded that endeavor to apply anthroposophy.
Learn more about initiatives and individuals with values like yours.  
Community
Anthroposophy is a nonsectarian, nonpolitical membership organization supporting the development, communication, and practice of anthroposophy in the United States.   As a part of the Anthroposophical Society in America, the Los Angeles Branch seeks to nurture the life of anthroposophy in the surrounding area.  Our branch supports the individual path of self-development, together with the community path of social health and renewal in the light of anthroposophy.
ANTHROPOSOPHY   (noun)   [an-thro-POS-o-phy]   The art and science of becoming more fully human.
Rudolf Steiner was born on February 27, 1861 in what is now Croatia and died on March 30, 1925 in Dornach, Switzerland.   His monumental achievements of drafting an alternative science, a new pedagogy, new perspectives in medicine and agriculture, and new forms of expression in both the visual and performing arts, have entered into the spiritual heritage of the present time.  They live in today's cultural life as an impulse and an inspiration.
"Anthroposophy does not want to impart knowledge.  It seeks to awaken life."  - Rudolf Steiner
Save 20% on Select New Books

Each month, we offer a 20% discount on a limited number of books, so good advantage can be taken of these sales with your visits to the library
Explore the weekly verses that Steiner shared with us in his native German language and since translated into English by great students of anthroposophy and compiled by Eloise Krivosheia.
Dear Members and Friends,
Many of us are aware of the exceptional inter-generational work with elders done at the Fellowship Community in Chestnut Ridge, New York. It is with great sadness that we received the following announcement from them:
On Sunday, May 31 a fire started in Pine Lodge, where 11 retired elders and 2 co-workers lived, and where our community guest accommodations and Weavery (room housing weaving looms) were located. Thankfully all 13 residents and guests of Pine Lodge were able to get out safely, but nearly all of the building and personal belongings were destroyed.
You Can Help Rebuild Now!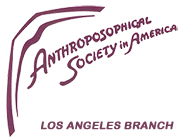 Anthroposophical Society in America Los Angeles Branch
Rudolf Steiner Community Center
110 Martin Alley, Pasadena CA 91105
Info@anthroposophyla.org
Tel. 626-795-7105